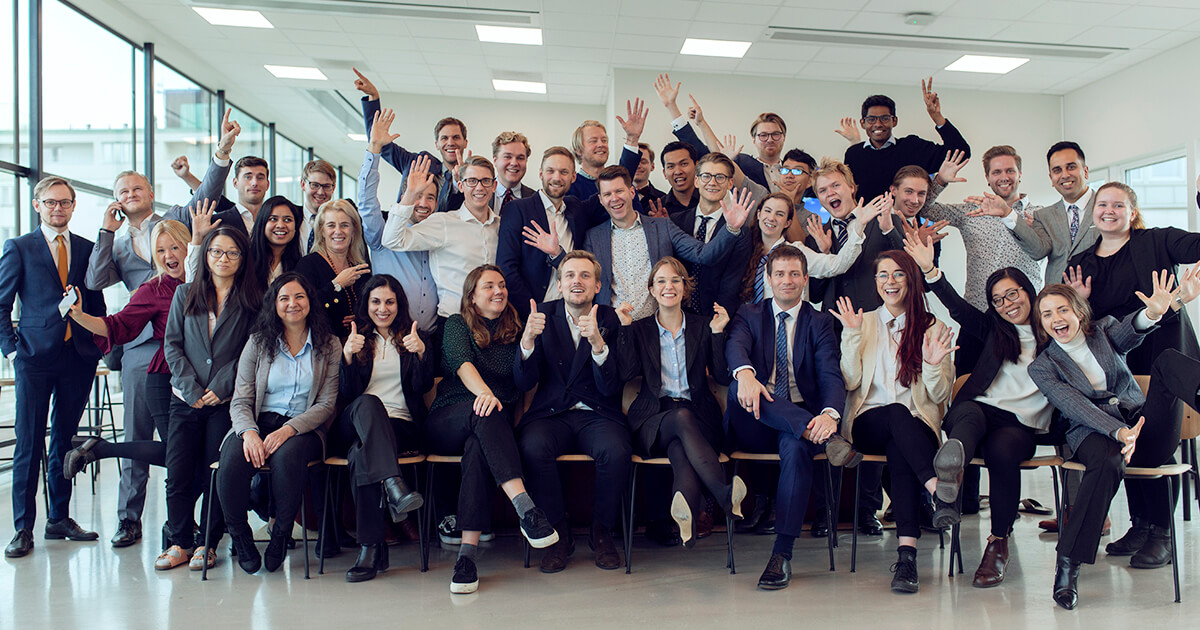 Welcome to Bokio
Many start their own business to be free and work with what they really love. All successful businesses start with an idea and at Bokio, we do everything in our power to turn these ideas into something successful.
Bokio is a fast-growing SaaS company offering accounting software to small business owners in both Sweden and the UK. Today we empower over 100k entrepreneurs to do their own accounting. Tomorrow we will help entrepreneurs globally to manage their business finances. At Bokio you will work closely with world-class designers, developers, serial entrepreneurs and business strategists with the courage to create new disruptive products that will impact the everyday life of our users.
With an international and fast-growing team composed of 90+ employees in Gothenburg and Stockholm, we are now looking to hire a User Researcher to our growing product department. At Bokio we see user research as a collaborative activity where Designers, Product Managers, Developers and other stakeholders are involved. We want to scale our research team so that we can have more awesome researchers who can identify, oversee and drive research initiatives within the teams, but also on an organisational level. In this role you will be both hands on conducting research but also evaluating and elevating research practices across the organisation, working closely with your teams but also the rest of the research team.
What your role will be
Identify, oversee and drive exploratory, foundational, generative and evaluative research initiatives together with your assigned teams.
Drive initiatives that help the organisation gain a better understanding of our users and inform our product strategy.
Work to elevate research practices in your product teams and across the organisation.
Mentor and educate other researchers as well as the organisation to become better at conducting valuable user research.
Your experience
At least 3 years of experience from working in a growing, fast-moving product organisation.
You have extensive experience planning, prioritising, conducting, analysing and communicating research using a broad set of qualitative research methods.
You have experience developing and scaling research structures on team and organisational level.
You have experience mentoring peers and function as an expert in your current organisation.
You have worked closely with analytics on mixed methodology research before and are familiar with quantitative research methods, utilizing metrics as well as A/B tests and can connect quantitative data with qualitative data.
Who you are
You have empathy and always strive for deep understanding of user needs, perspectives and behaviours.
You have strong interpersonal skills and can easily collaborate with people but are also very autonomous and comfortable working on your own.
You have excellent communication and storytelling skills with experience of working in cross-functional teams and collaborating with various stakeholders.
You are able to make an impact with your research insights.
You are solution orientated and comfortable working in an environment where you don't have all the answers.
You are curious and enjoy teaching yourself new things.
Fluent in both Swedish and English.
Bonus if
You have worked at a SaaS-company (software as a service) before.
You have experience with accounting.
You have extensive experience planning, conducting, analysing and communicating quantitative research.
You have experience working with business development.
You have experience running your own company.
You have deep knowledge about the UK market.
You have a degree in Human Computer Interaction, Psychology, Social Science, or a related field.
Life at Bokio
We have created a culture at Bokio where empathy and diversity are front and centre. We're more than just co-workers. The Bokio workplace is like an extended living room, with the best colleagues and best support, always. So, working at Bokio is fun, fast-paced and innovative. Get a glimpse of our family here.
Benefits
You get to enjoy the company of skilled and kind people from around the world.
Flexible working hours and freedom to work from home much of the time.
Skilled colleagues, we only hire people that pass our tests.
Great possibilities to improve your skills through tough and interesting challenges.
Two awesome offices in central Gothenburg and Stockholm.
Wellness grant, pension and other benefits.
Location
We have a Hybrid work model with central offices in Stockholm and Gothenburg. The position can be located in either office with the possibility to work flexible remote.
Interested?
This is a chance to join our family and be part of an exciting scale-up with development opportunities, social activities and a stimulating work environment with good benefits. Are you the one we are looking for? Please apply by introducing yourself in a cover letter or a short video and submit your portfolio.
Do you feel that you don't match all our criteria? We are looking for the right person at heart, not the right person on paper. So if you really feel passionate about our mission and our users, and feel you can contribute, you can still apply!
If you have any questions, please let us know.
Apply for this job