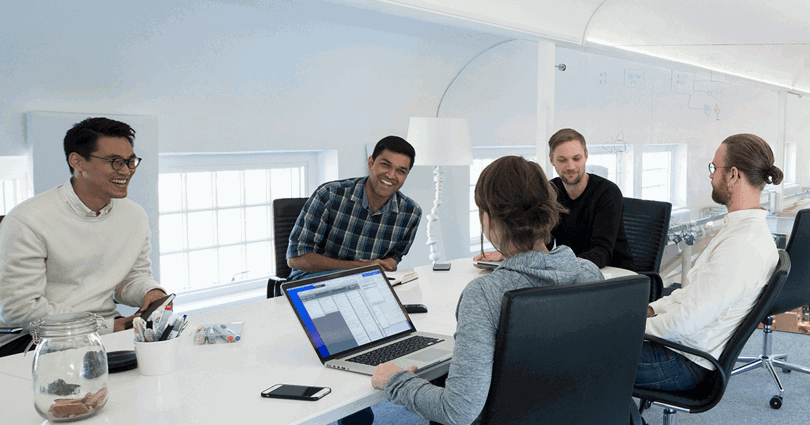 About Bokio
Bokio is a fast-growing SaaS company simplifying life for small business owners and operators through easy to use, highly automated and free invoicing, accounting and payroll products.
Today we empower over 80k entrepreneurs in Sweden and the UK - tomorrow we will help entrepreneurs globally to manage their businesses.
With an international and fast growing team composed of 50 employees in Gothenburg, we are now looking to strengthen our team with an experienced product manager.
What you will do at Bokio
Work full-time in one of our product teams to create the best possible customer experience and long term value for Bokio. This includes everything from understanding the customer needs and behaviours to securing delivery of product iterations and ultimately customer value.
More concretely, this includes:
Developing and owning the product vision (with your team)
Leading product discovery and validation, including data analysis, user research and testing, prototyping and competitor analysis
Defining and aligning the team and relevant stakeholders around goals and measurable outcomes in line with Bokio business priorities
Developing and maintaining the product roadmap and associated backlog
Representing the customer perspective in all internal trade-off and prioritization decisions
Who you are
You are passionate about delivering great customer experience, but can be pragmatic when needed
Very strong problem solver - as comfortable with qualitative input from customer interviews as you are crunching through engagement data
You have good business judgment and are able to translate business priorities to product implications and customer value
Communication is one of your strengths, and you can get your message across with engineering, design, business development or other stakeholders
You have at least a few years experience in product manager or product owner roles, preferably from fast-growing software companies
Experience from freelance work or running your own company is a big plus
Life at Bokio
We have created a culture at Bokio where empathy, diversity and courage are front and centre. At Bokio you work with the best colleagues in a fun and fast-paced environment, where you have large freedom and equally large responsibilities.
This is a chance to be part of an exciting scale-up with plenty of opportunities for personal growth and career development, frequent social activities and good benefits.
Interested?
Are you the one we are looking for? Or, do you know someone who would be a perfect fit? Let them know!
Apply for this job